Florida Keys Travel Guide
Besides our small town of New Smyrna Beach, the Florida Keys is our second favorite place in Florida.  One thing the Florida Keys have is Coconut Palm Trees which is our favorite tree.   When we see these Palm Trees, it means we are in the tropics.   The views are memorizing due to the turquoise water and beautiful ocean breezes.   It is just another day in Paradise.  On this trip, we spent our time in our favorite key-Islamorada which means Purple Isle.   The reason it got this name is the sky is purple at sunset.   Check out Mike's Florida Keys photos and you will see what we are talking about.   Purple Isle Fine Art Photograph.  This Island is also know as the Sports Fishing Capital of the World, which is Mike's favorite hobby.  He grew up spending his vacations and weekends in the Keys, so he knows all the great fishing and lobster spots.   If you like snorkeling they have reefs to explore.   Do not forget there are amazing beaches at the resorts to relax and/or read a book.   So if you need to recharge  your life, this is a place to be.
 This Iguana leisurely climbed down the Palm Tree next to the table to take a bite out of Mike's fish dip which was removed from the table immediately.  Then, Mike had a stare down with a Green Iguana.   Mike won, the Green Iguana left all frustrated.  It's believed that the first iguanas to find themselves in the Florida Keys were stowaways on several ships bringing fruit over from South America. Who really knows how they got to South Florida because they are excellent swimmers.   When it gets cold in South Florida, the Iguanas look like they have froze to death, but as soon as they warm up, they are alive and well.   Do not let this deter you from visiting the Keys, because that was our only encounter from many trips.  
WHERE TO STAY?
The Cheeca Lodge & Spa is a tropical paradise where you will discover your oasis.   The Lodge is lad-back resort with all of the amenities you need.  The way they have the resort set up feels like you are on your own little island.   Check out our video on Florida Keys to see the inside of our room.  Click on Cheeca Lodge & Spa Image above to link to their website and more information.
 WHERE TO EAT?
The Cheeca Lodge & Spa has 5 locations for foods and drinks.  Cheeca Lodge Dining.   All excellent choices, but if you want to leave the resort property we recommend the below eateries.  
Mangrove Mike's Cafe
A great place to have breakfast after our morning photo shoot.   Mike had their Mexican Omelet and Adele had a specialty hot cakes of the day.  Breakfast was delicious!  They serve breakfast and lunch (Hours:  6 AM - 2 PM).    Mangrove Mike's Menu.
Lazy Days Restaurant
The name says it all.   The Florida Keys are about slowing down and relaxing.  This restaurant has amazing seafood.   They have dining indoors and outdoors.   You can actually have lunch or dinner on the beach with an ocean view.   We decided to have lunch one day indoors to cool off from our morning photo shoot.   This restaurant will also cook your catch from the sea.   Located at 79867 Overseas Highway, Islamorada.  Check out their menus:  Lazy Days Restaurant website.  
 Lorelei Restaurant & Cabana Bar
The Lorelei Restaurant is know for amazing music and beautiful sunsets because of its location of the west side of the island. They are open all day serving breakfast, lunch and dinner.   We definitely recommend dinner.   This restaurant has amazing seafood.   Located at 96 Madeira Road, Islamorada.  Check out their menu:  Lorelei Restaurant Website.
Shrimp Shack
When you go to the Shrimp Shack, of course you must order shrimp.   They offer a variety of seafood options from their homemade family recipes.   Run by the mother daughter team of Jill and Morgan.   It is a very busy restaurant due to they were featured on Diners Drive in and Dives Show by Guy Fieri.  We go to the Keys in mid-September.   Since September is a very slow time in the Keys, they close down for a couple weeks.   We were lucky enough to have dinner on their last night open before their season break.  A must stop when you are in Islamorada.   Location right by the resort at 81901 Overseas Highway, Islamorada.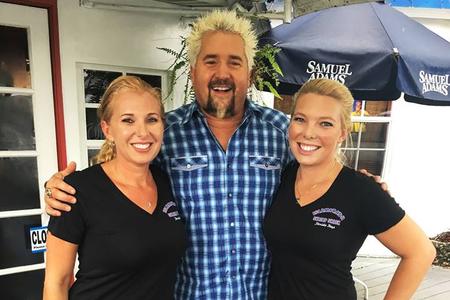 WHERE TO EXPLORE? 
Alligator Reef Lighthouse
Do not be fooled by its name - there are no alligators to be found.  The Lighthouse was named after an 1800s Navy Schooner's name "Alligator" which kept the islands safe from dangerous pirates.   This Lighthouse is not on land, it is approximately 3.5 nautical miles off shore surrounding by a beautiful reef with  an average water depth of 20 feet.  Therefore, it is an ideal place to snorkel to view colorful fish and clear water.    Alligator Reef is a Sanctuary Preservation Area (SPA).   Refer to map below to SPA:
When you stay at the Cheeca Lodge and Spa, you do not have to leave the resort.   You are in your own little piece of paradise because they are a full-service water sports facility right on the property.   Click on link to check it out:  Fun on the Water
 Sportsfishing Capital of the World 
If you are staying at the Cheeca Lodge & Spa, there staff is amazing and can assist you with all your needs. The reason Islamorada is great for fishing is the Gulf Stream flows past the islands from 10 to 20 miles offshore.  Depending on the time of year, game fish such as sailfish, marlin, kingfish, wahoo, dolphin (mahi-mahi) and tuna close enough to shore to be targeted by small-boat anglers. Tarpon and bonefish are among inshore species coveted by light tackle anglers.  We recommend 2 places that are close to the Cheeca Lodge for fishing charters:  (1) Bud n Marys Marina and (2) Postcard Inn.  
 Lobstering
The natural bottom surroundings Islamorada is prime habitat for Caribbean Spiny lobsters. Ledges, crevices, mangroves, coral, and sponges all provide adequate habitat for lobster during the daylight hours.  During mini sport lobster season, you are allowed to dive at night for lobster.   The lobsters are not hiding at night, they are feeding and walking the sea bottom.   Spearing lobster is prohibited at any time.  The regular eight-month lobster season is always August 6th through March 31st.  The mini lobster season is always at the end of July before commercial lobstering is allowed.   Mike has been lobstering his entire life and is really good at spotting and catching lobster.  
According to CCR T14, Section 29.90(b), the daily recreational bag limit and possession limit are six lobsters per person, regardless of whether they are fresh, frozen or otherwise preserved.
It is important to know the lobster season regulations before going out to harvest Lobster.
The Florida Fish and Wildlife Conservation Commission (FWC) provides detailed information on its Spiny Lobster Stamp add to your fishing license.